Hot Selling Vacuum dish washing liquid mixing machine Lotion homogenizer Cosmetic emulsifier homogenizer
| | |
| --- | --- |
| Prix ​​unitaire: | 4500~20000 USD |
| Quantité de commande minimum: | 1 Set/Sets |
| Délai de livraison: | 1 jours |

| | |
| --- | --- |
| Détails d'emballage: | Playwood box |
| transport: | Ocean,Land,Air |
| Capacité d'approvisionnement: | 300 Set/Sets per Month |
| Hafen: | Shanghai Port/Ningbo Port |
Description du produit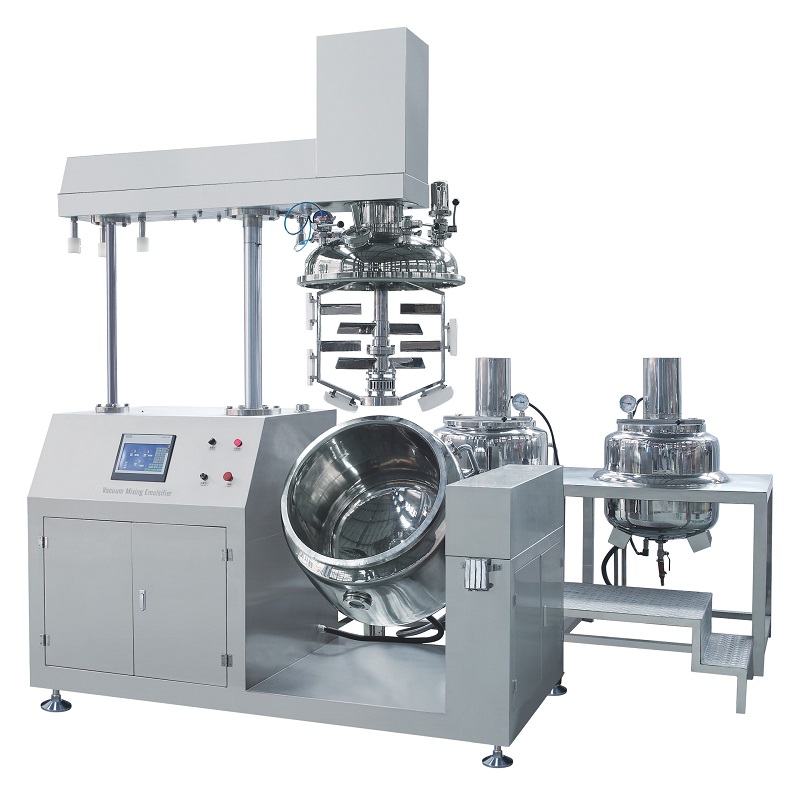 Purpose: The equipment is suitable for emulsification of the pharmaceutical. Cosmetic, fine chemical products, especially the material having high matrix viscosity and solid content. Such as cosmetic, cream, ointment, detergent, salad, sauce,lotion, shampoo, toothpaste and so on Structure:including main emulsifying pot, water pot ,oil pot and work frame。 1 Usually the oil pot is used for dissolving some solid that the product can just only be dissolved into oil, then the dissolved solvent will be sucked into the emulsify pot by soft pipes. 2 The function of water pot is the same to the oil pot. 3 emulsify pot is used for emulsifying the products that suck from the oil pot and water pot.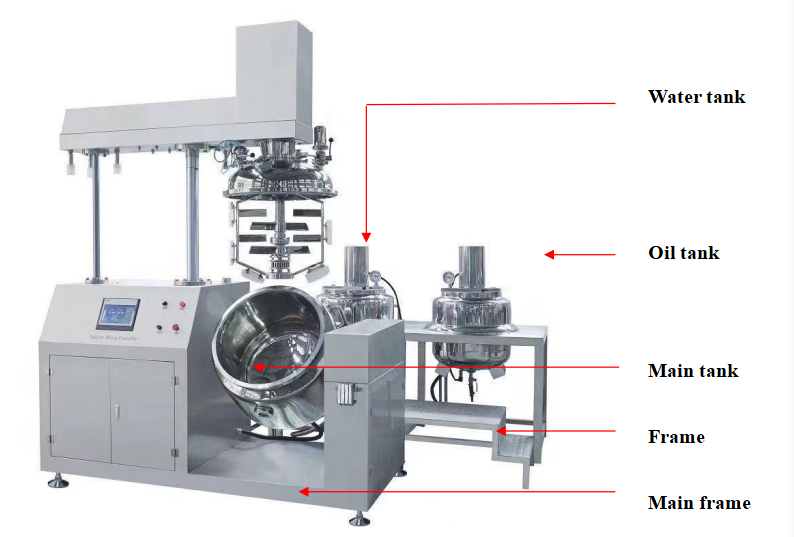 Main frame: including emulsify pot, lifting system, discharge system, vacuum system, electric control system, rotate system, mixing system. Vacuum pump is connected by two soft pipes, one is connected the water tank by soft pipe which is used for sealing when the pump is operating; the other connected to main emulsify pot through pipes and gas—liquid separator, so that the pump can make the main emulsify pot under vacuum condition. The gas—liquid separator is separating the gas and water, because the steam is sucked into vacuum pump when it is working, the steam through gas---water separator, some of steam become into water which flow out at the bottom of the separator.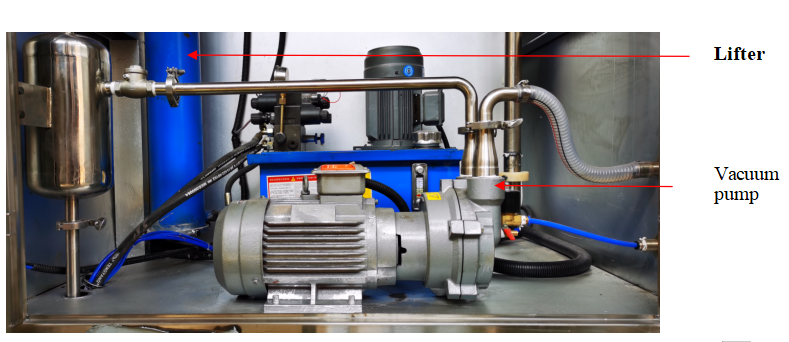 The vertical motor is high speed motor which can rotate between 0—3500 rmp/min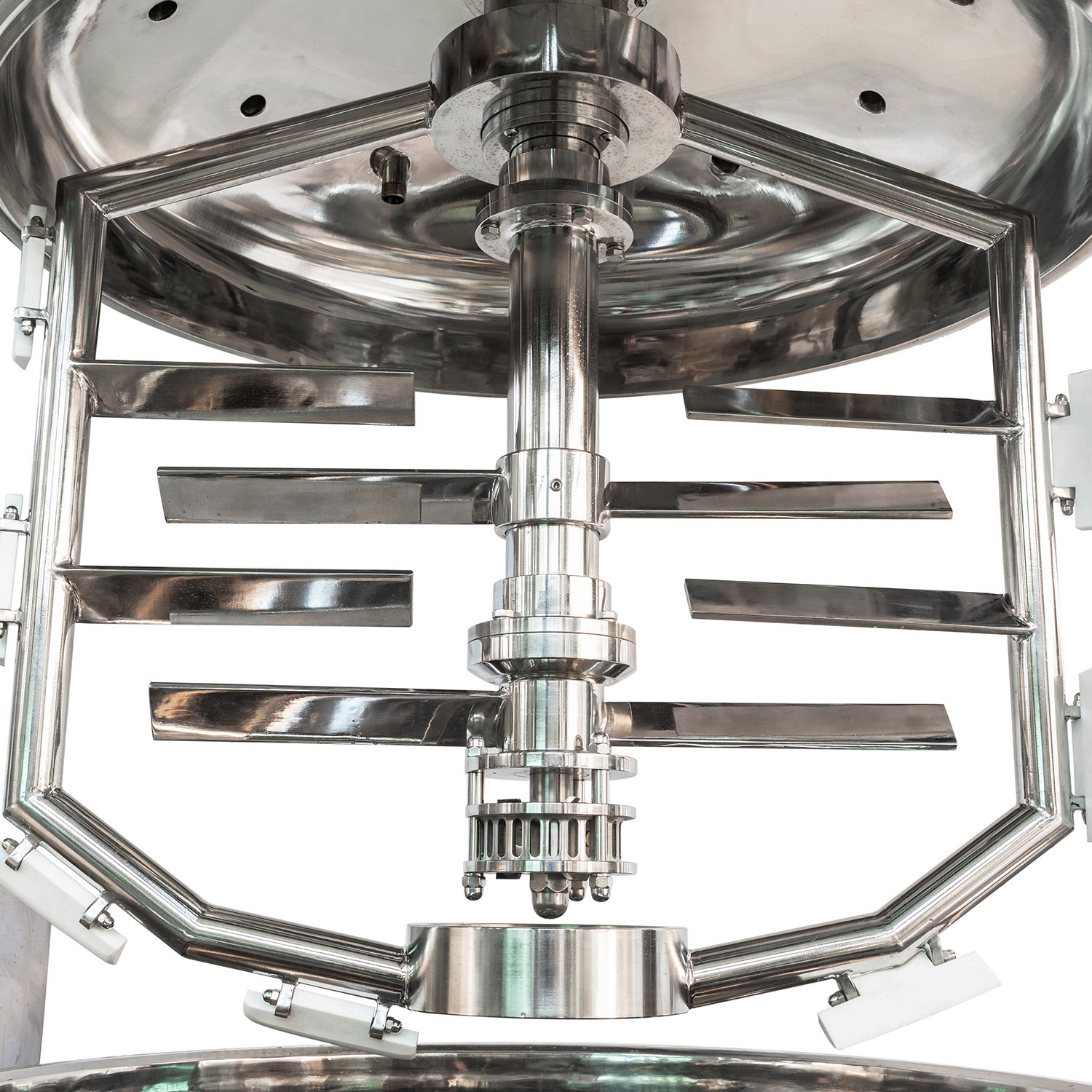 You can demolition the motor by open the screws and one wire. Mixer: it include low speed mixer and high speedy mixer (homogenizer) a)Emulsifying pot:including cover, pot, bottom valve, temperature sensor, heating system.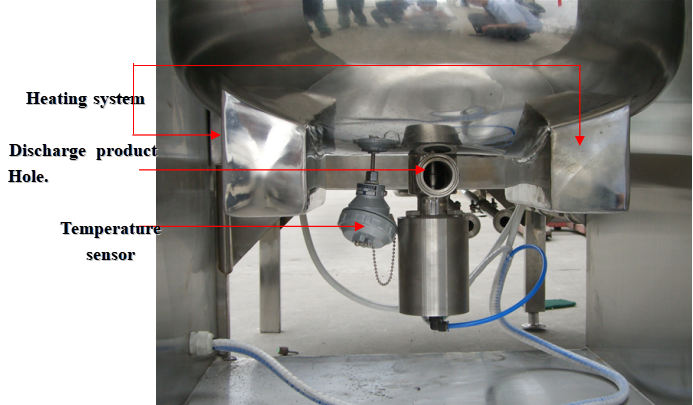 This machine is heated by electricity, you just fill water into jacket, then turn on the heating system, the water is heated by electricity according to your requirement. 2 this machine also can be heated by steam, you just connect to steam producer when you heat the machine by steam. Discharge hole: it is used for discharging the product just open the valve by pressed air. Temperature sensor: it is used for check the temperature the product inside pot Accessories on the cover: including vacuum protection system, pressed air inlet hole, negative and plus pressure meter, mirror, CIP that for washing, break vacuum hole, material inlet hole, prepare hole for inlet perfume, automatic control vacuum valve and so on.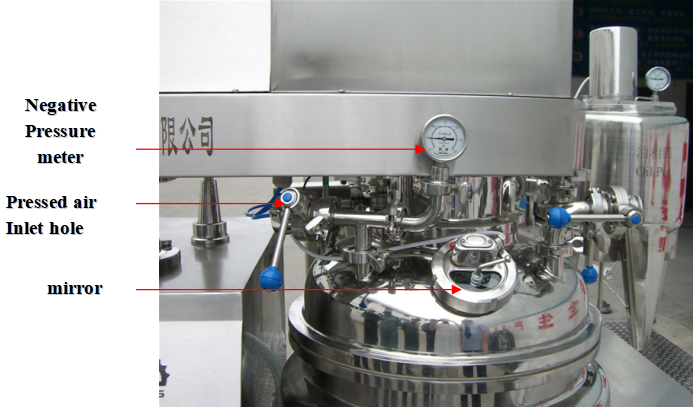 Break vacuum hole: it can break the vacuum inside pot by turning the valve, there is air filter inside valve. The product can not be discharged under vacuum condition, it just can be discharged without vacuum. CIP: it is used for cleaning the inside pot by connecting tap water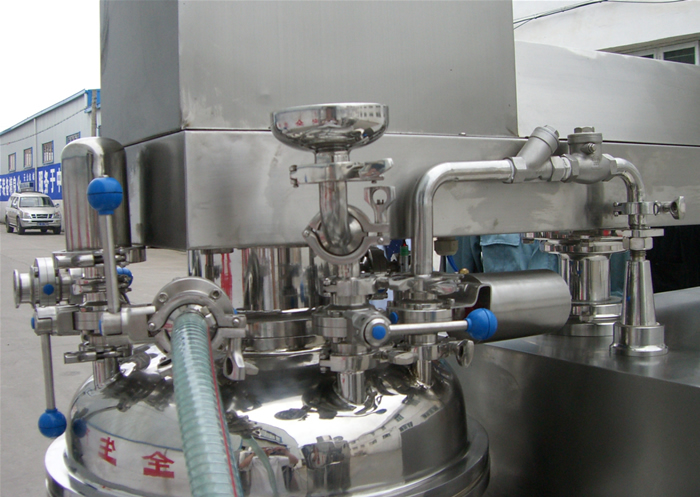 Perfume inlet: it is prepare hole for put perfume into the pot. Suck product inlet pipe: it is used for sucking product from the oil pot and water pot. You also can suck the product from oil pot and water pot to emulsify pot by vacuum through the stainless steel pipe.
This vacuum protection switch is designed so that the cover can not be lifted when it is vacuum inside pot.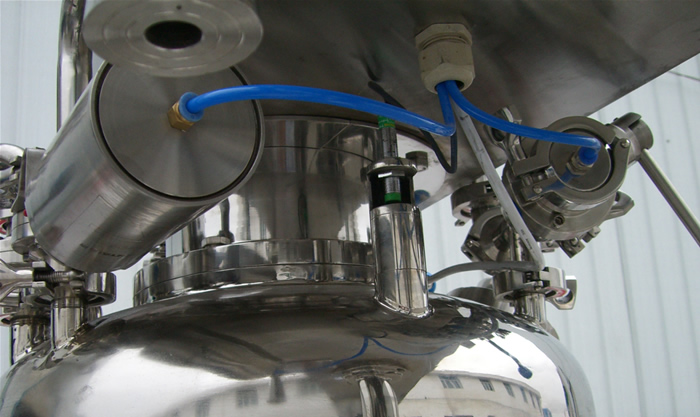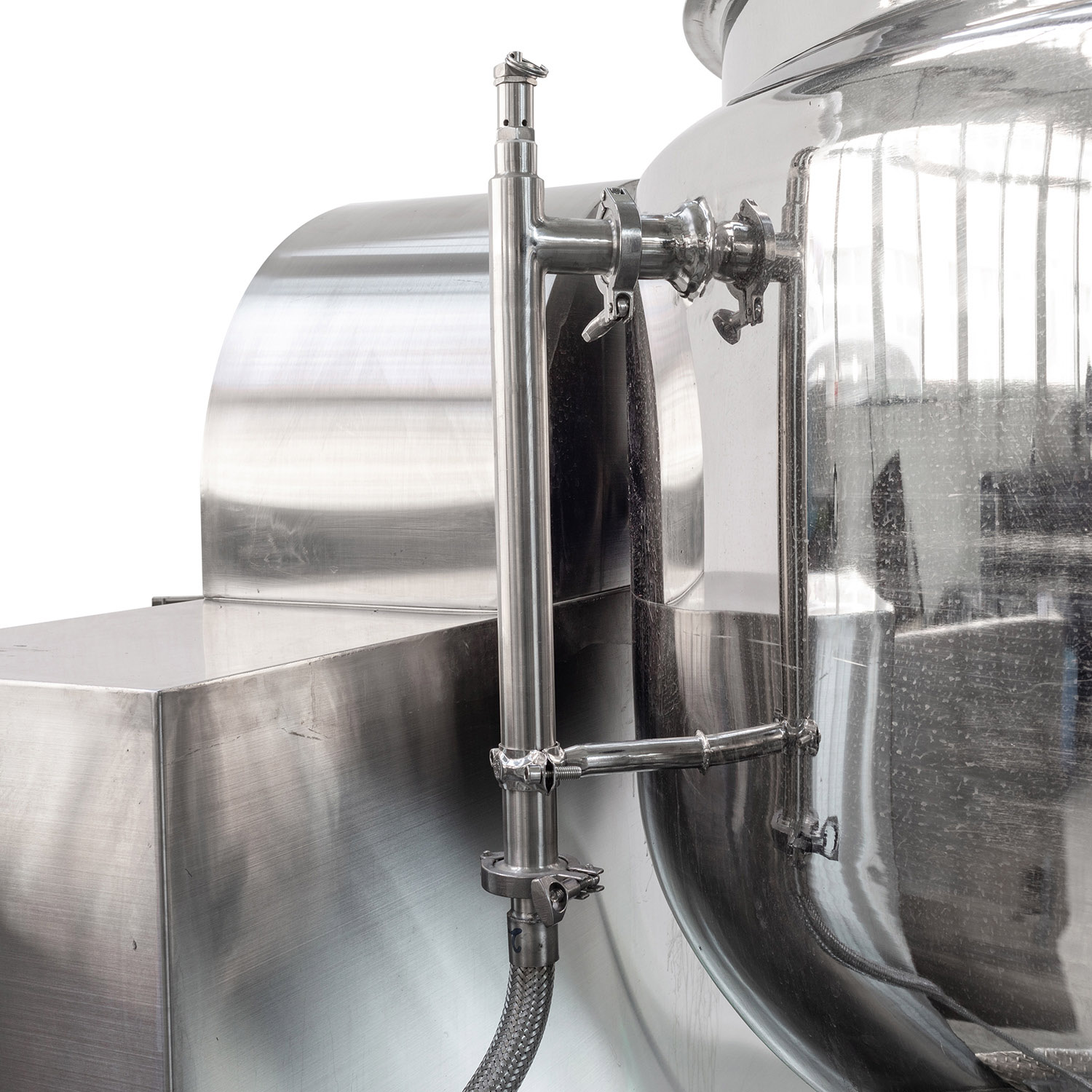 Water inlet system and cooling system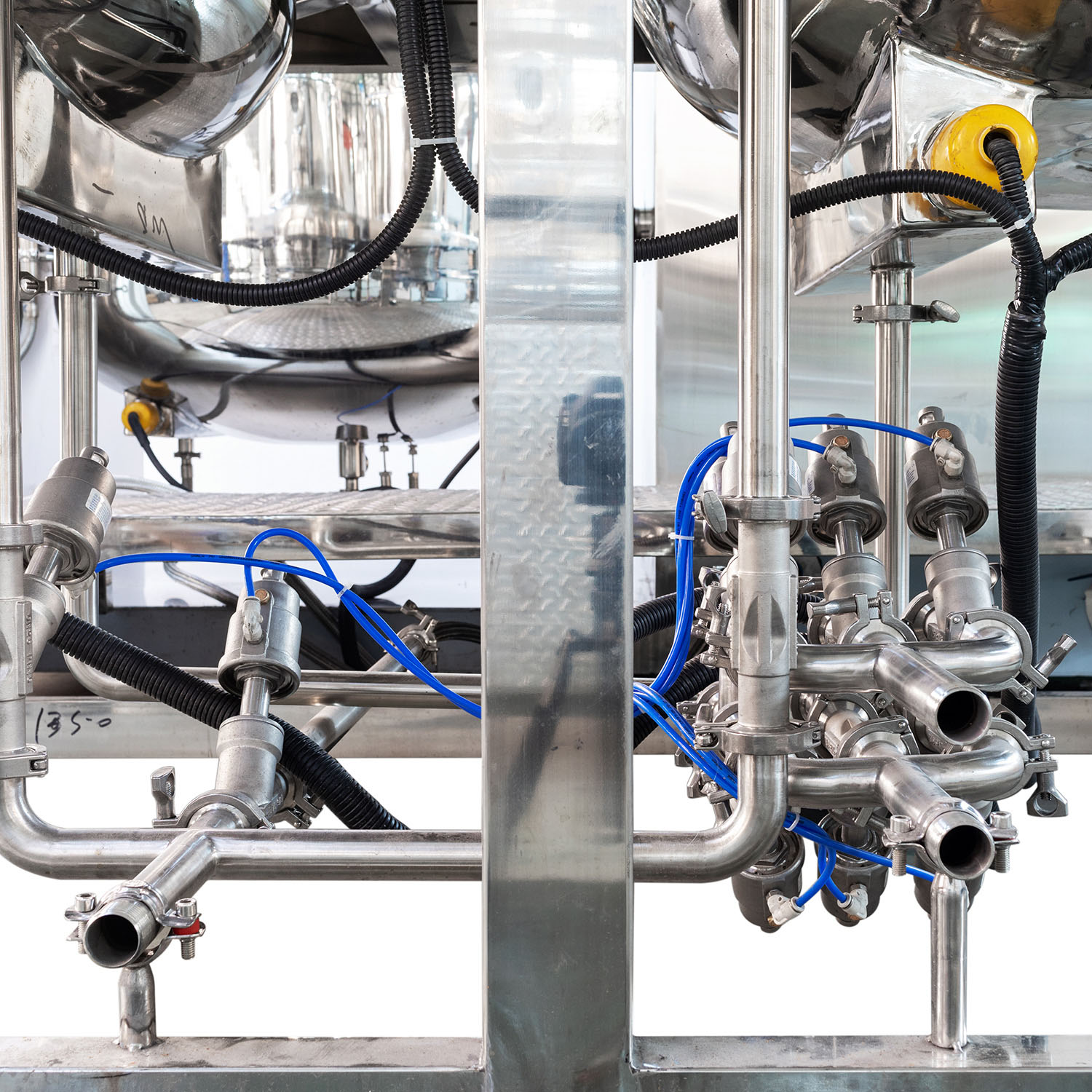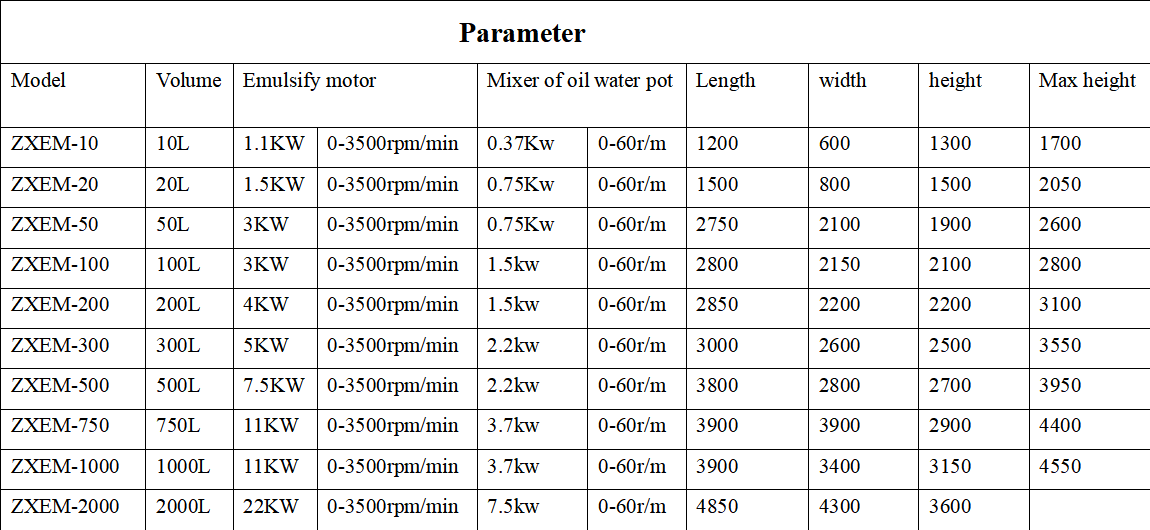 | | |
| --- | --- |
| Category name | 500L vacuum mixing emulsifier |
| Spindle speed range | 0-3500 rmp/min |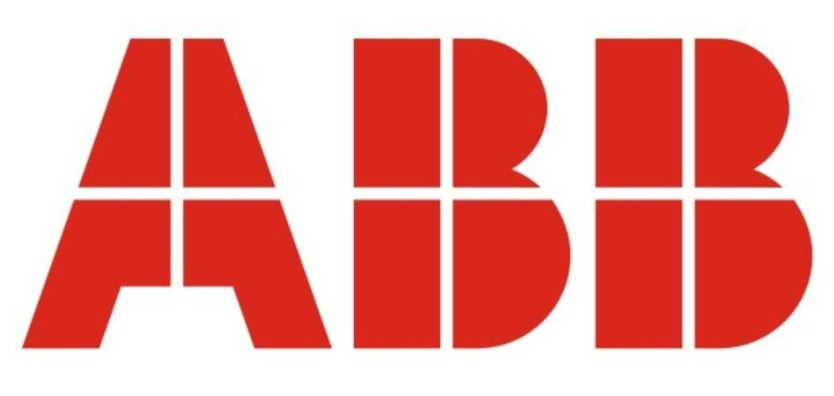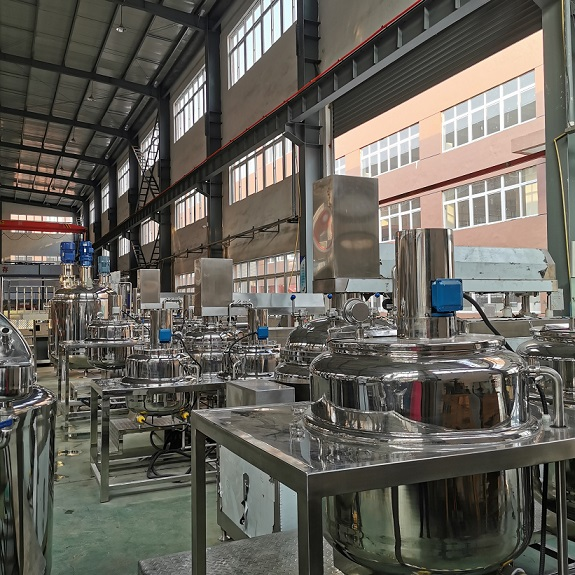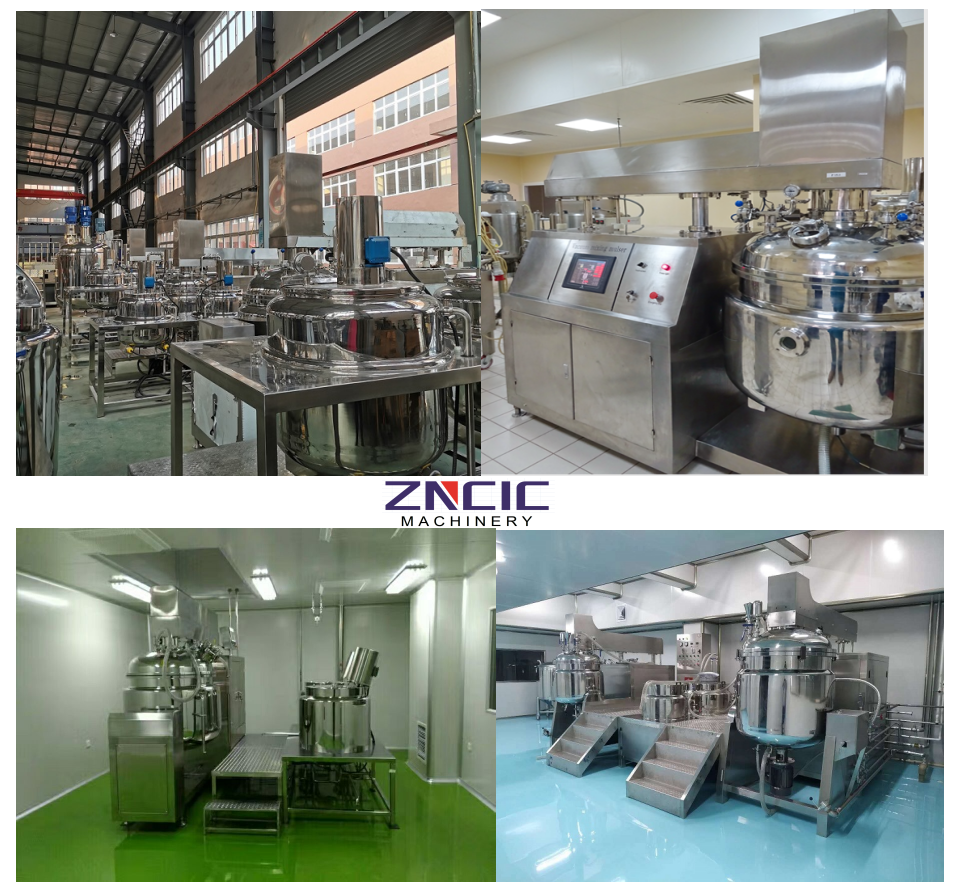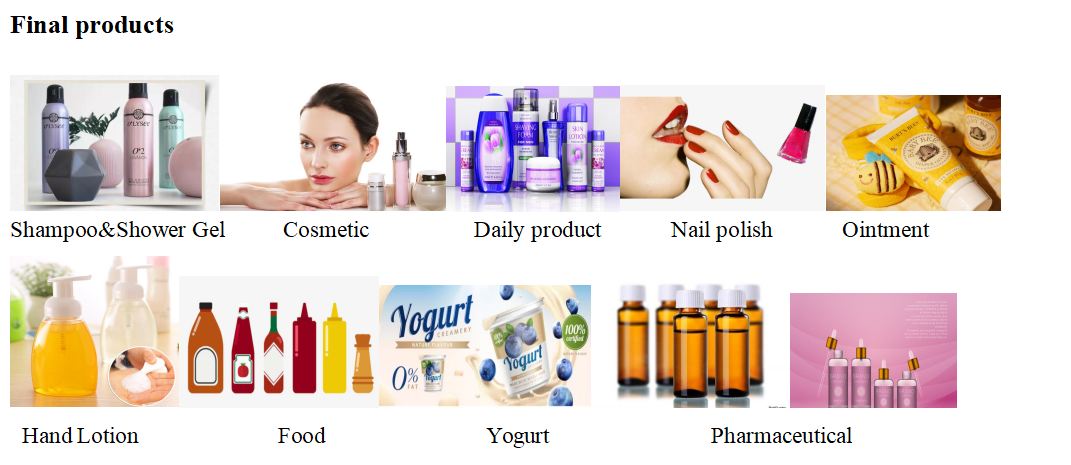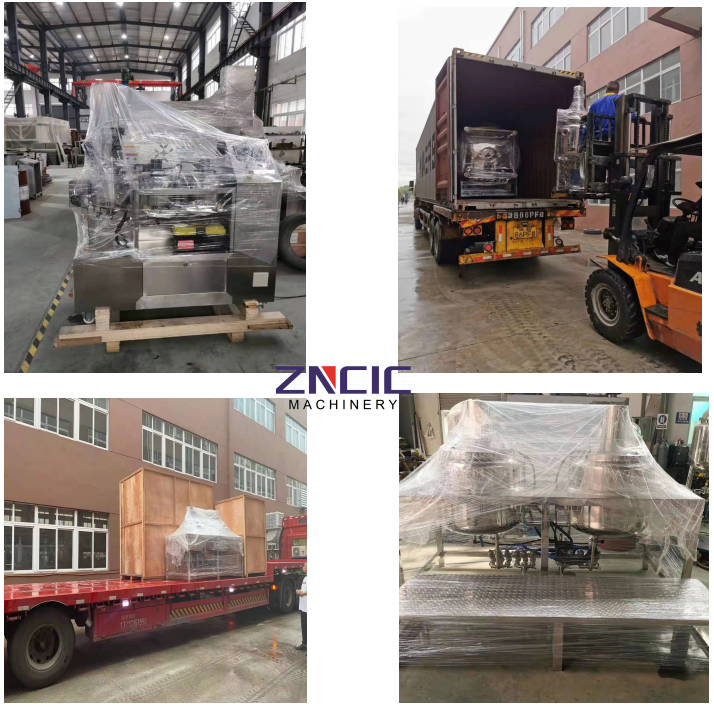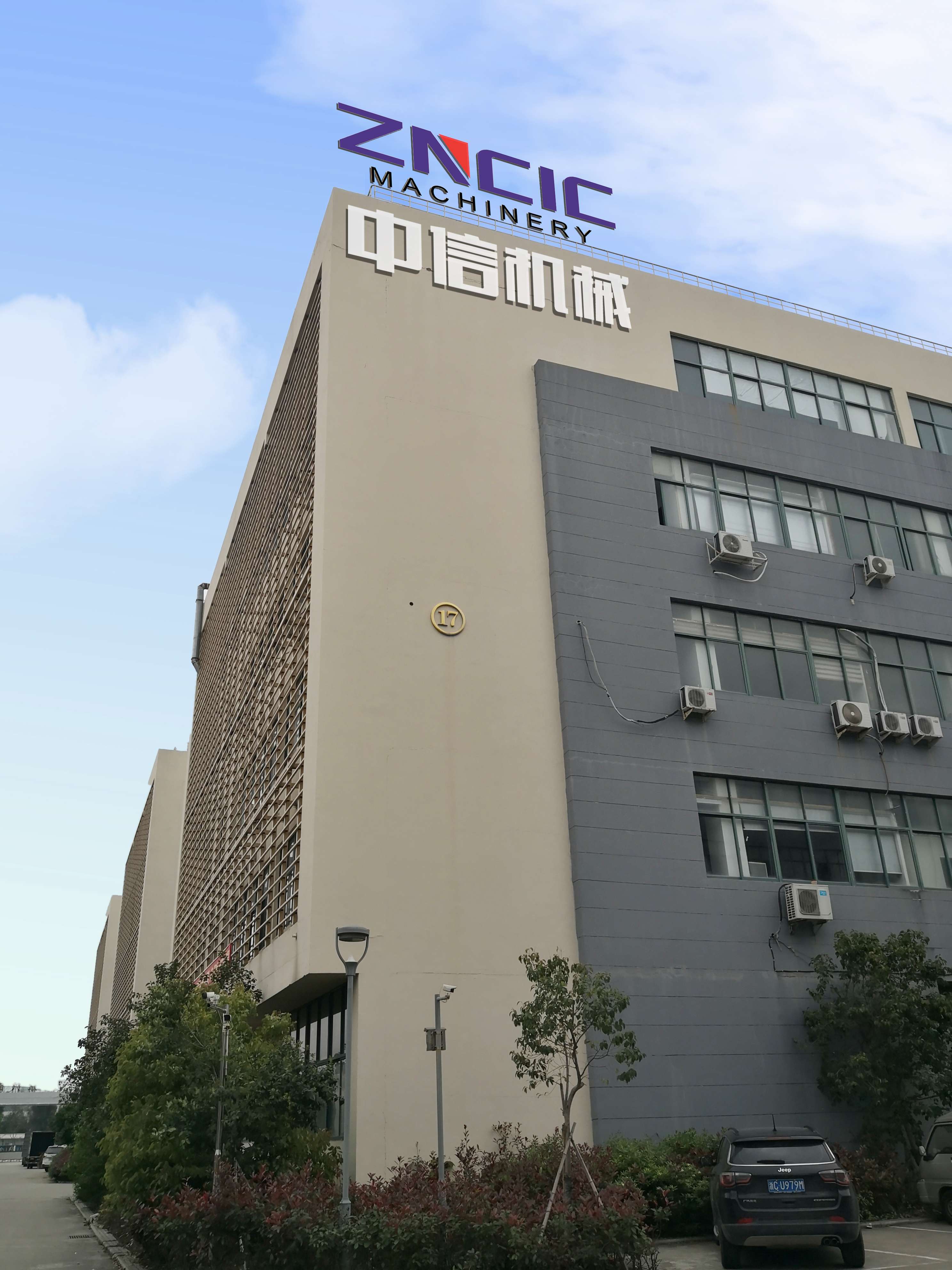 Wenzhou Zoncic Machinery Technology Co., Ltd. was established in 2014, formerly known as Haibin Chemical Machinery Factory, with a history of more than 20 years. It is a high-tech enterprise specializing in the research and development, manufacture and sales of equipment in the pharmaceutical, chemical, food, biological and other industries. It mainly produces CBD extraction, molecular distillation, vacuum drying equipment, fermentation tanks, emulsifiers, granulators, paging machines, packaging machines,etc. Zoncic Machinery has an experienced team of engineers who can conduct technical exchanges with customers in a timely and effective manner and offer the best solution; Zoncic Machinery has a skilled production team that can complete equipment production and inspection on time and guarantee product quality; Zoncic Machinery has a passionate sales team that can maintain close communication with customers 24 hours online to meet customer needs; Zoncic Machinery has a hard-working ins tallation team that can actively cooperate with customer needs to install and debug equipment on site to ensure equipment operation; Zoncic Machinery has a patient and responsible after-sales team that can deal with customer feedback and solve customer doubts in the first time. Our equipment is exported to Southeast Asia, Europe, the United States and other regions and has been unanimously praised by customers. Our aim is to make our equipment worthy of praise.

1 .Q Do you accept a customized order?     A: Yes ,we do ; We could manufacture all kinds of required equipments according to your technical drawings;   2.Q: Can you make a design for us?    A:Yes, we could making a production line according to customer's requirements. We could do the key project. 3.Q:Can your engineer come to our place for installation guides?    A:Yes, we could. We will provide a video and document for installation;If you still have problems we will send our  engineer oversea for installation guide; 4.Q:When is the lead time? A: In 50 days after receiving the deposit. For your inquiries, pls kindly let us know:   1. What is your products?  Cream,toothpast, moisturizer,night cream, vanishing cream,suncream etc.   2. What is the capacity do you want for this vacuum emulsifying machine? 100L,200L300L,500L,1000L, etc.   3. Required heating method: electric heating or steam heating?    4. Required voltage and frequency of power supply? eg:380V 50Hz 3phase?   5.  Requirement of Certificate 
Wenzhou Zoncic Machinery Technology Co.,Ltd
Wenzhou Zoncic Machinery Technology Co., Ltd a été créé en 2014, anciennement appelé usine de machines chimiques Haibin, avec une histoire de plus de 20 ans. Il s'agit d'une entreprise de haute technologie spécialisée dans la recherche et le développement, la fabrication et la vente d'équipements dans les industries pharmaceutiques, chimiques, alimentaires, biologiques et autres. Il produit principalement une extraction de CDD, une distillation moléculaire, un équipement de séchage sous vide, des réservoirs de fermentation, des émulsifiants, des granulateurs, des machines à paume, des machines d'emballage, une pompe sanitaire, des canalisations, etc. Les machines zonciques possèdent une équipe d'ingénieurs expérimentés pouvant effectuer des échanges techniques de une manière opportune et efficace et offrir la meilleure solution; Zoncic Machinery possède une équipe de production qualifiée pouvant compléter la production et l'inspection de l'équipement à temps et de garantir la qualité des produits; Zoncic Machinery a une équipe de vente passionnée qui peut conserver une communication étroite avec les clients 24 heures en ligne pour répondre aux besoins des clients; Zoncic Machinery dispose d'une équipe d'installation active qui peut coopérer activement avec les besoins des clients pour installer et déboguer des équipements sur site pour assurer le fonctionnement de l'équipement; Les machines zonciques possèdent une équipe après-vente patient et responsable qui peut traiter les commentaires des clients et résoudre les doutes des clients dans la première fois. Notre équipement est exporté vers l'Asie du Sud-Est, l'Europe, les États-Unis et d'autres régions et a été délabré à l'unanimité par les clients. Notre objectif est de rendre nos équipements dignes de louange.
Nom de la compagnie: Wenzhou Zoncic Machinery Technology Co.,Ltd
Produit / Service: Réservoir en acier inoxydable , Équipement de fermentation biologique , Machine de traitement phamaceutique , Machine émulsifiante , Machine d'emballage , Pompe sanitaire
Capital: 5080000RMB
Année d'Etablissement: 2017
Volume total annuel des ventes (en millions de US $): US$5 Million - US$10 Million
Pourcentage des exportations: 71% - 80%
Nombre de Lignes de Production: 5
NombrNombre du Personnel de R&e du Personnel de R&D: 5 -10 People
Nombre du Personnel de QC: 5 -10 People
Service d'OEM fourni: yes
Superficie de l'Usine (mètre carré): 1,000-3,000 square meters
Adresse de l'Usine: Wenzhou Economic&Development Zone, Wenzhou City,China
Personne À Contacter: Ms. Rain Jiang
Numéro De Téléphone: 86--13567799313